ORDERING INFORMATION
The STRONG® Sail Track and Slide System Order Form can be downloaded and filled out
either on your computer and printed, or by hand after printing.
The completed form can then be mailed.

To Email in your completed form use the .doc Microsoft Word format form.

To fill out and print for regular mail , use the .PDF form

Please fill out the form completely!
PDF format Order Form
STRONG_orderform.pdf
Word format Order Form
STRONG_orderform2.doc
Installation Overview
Illustrated Installation Overview (.PDF)
MAILING ADDRESS

Ultra-Marine Limited
1551 Clearwater Dr.
Mississauga, Ontario, Canada
L5E 3A4
BEFORE ORDERING
Prior to placing your order, you must determine the size and style of the mast groove (width "A" and lip thickness "B"), or width of existing external track "F". Ultra-Marine will send you a set of measurement discs which were developed for this purpose (see below).

Each disc has a series of gauged studs which correspond to the most common mast groove configurations. The discs with numbered studs are for determining slot lip thickness. Lettered discs are for determining slot width.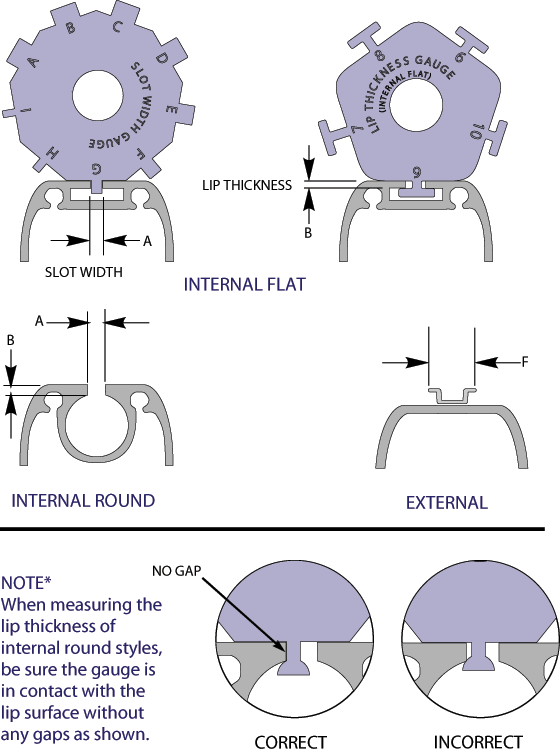 Measuring Instructions
Illustrated Measuring Instructions (.pdf)
COMPONENT HARDWARE




Above are the available slides and fittings for the STRONG® Sailtrack System. Each component is designed and manufactured specifically for use with the STRONG® Track. Slide components are available in either stainless steel or naval brass as shown.

Slide Stack heights:
#600- 1.5"
#401- 2"
#500- 3"
200A -accepts Flat Battens to 1-5/8"
-accepts Round Battens to 1/2"
200B -accepts Flat Battens to 2"
-accepts Round Battens to 5/8"