THE YACHTMAN'S CHOICE
Canadian designed, engineered and built since 1981, Ultra Furl is one of Canada's most popular reefing furling systems. It is offered in 6 sizes: system 300, 400, 500, 600, 700, and 800 for boats from 20 to 60 ft. With a worldwide record, Ultra Furl's continued popularity lies in its reliability and flawless performance and its easy installation and disassembly. Whether you are upgrading your current boat or equipping a new one, it's reassuring to know you've made the best choice by installing Ultra Furl.
This reliable and easy to use furling system has been used by blue-water sailors around the world. From the icy Arctic ocean, through gruelling northern storms, crisscrossing oceans, and rounding the Horn, Ultra Furl has been there and always performs to expectations.

TECHNICAL ADVANTAGES
Designed in 1981, the idea and concept was made possible through a team effort headed by Heider Funck, his staff and several highly qualified engineers. Then a concept was developed which took into consideration known flaws and disadvantages other systems were plagued with and left the challenge with our engineers to incorporate these ideas into the first Ultra Furl. A precision tool and die company was chosen to build Ultra Furl to our precise requirements.
Over the years, we have added new features, but the basic design remains unchanged and continues to be problem free. Ultra Furl has been designed for easy installation and requires no special tools or skills. Ultra Furl's reliability and easy handling puts it in a class of it's own.
Ultra Furl is not actively promoted through a distribution or dealer network, but we have relied on the best selling methods: satisfied customer referral, and an excellent track record. This has resulted in the rapid growth and acceptance of our product in Canada, the USA and also in Europe.
The strength and durability of Ultra Furl has been proven on many ocean yachts including the well known sailing yacht "Aqua Star".
KEY FEATURES
Ultra Furl features dual bearings in the upper swivel and lower drum. They are machined from 316-type stainless steel. To avoid corrosion caused by humidity and changing temperature (common problems with sealed bearings), we designed our system with open, self-cleaning bearings. As a result, rain or washing will flush away any salt or corrosive particles and will keep the bearings in fine working order for many years.

In addition, all components including the drum and swivel housing are made from aluminum which is black anodized and teflon coated offering maximum protection against corrosion.


EXTRUSION DESIGN
Ultra Furl features a unique, interlocking, two-part anodized aluminum section which slides over and rotates around the forestay. Our design allows the existing turnbuckle to be contained in the lower drum assembly, all of which make rig adjustments possible with minimum effort.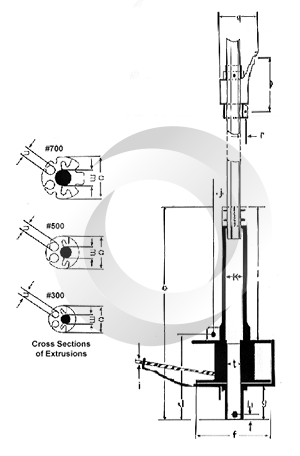 INSTALLATION
Ultra Furl can be easily installed without any professional help. It is best done on the standing rig. There is no need to go up the mast or to unhook the forestay. Each system can be installed in less than an hour unlike other systems, which can take days to install, there are no links or pins required at the joints since the extrusions are staggered.

SHIPPING
The complete package is about 2 meters long and can be shipped by regular carriers such as UPS or BPX.



WARRANTY
5 years on the complete drum & swivel system from the time it was first installed on your boat.


SERVICE AND PARTS
Ultra Furl is made in Canada. We offer a total service program and keep a complete parts inventory. International and World Wide Service is available in Canada, USA, and Germany.